Waterfront Resort with a Marina on Cape Ann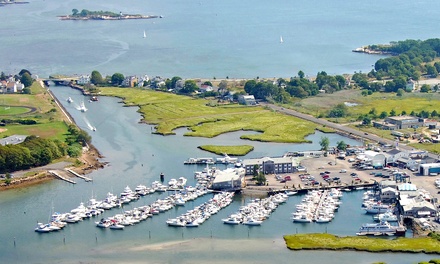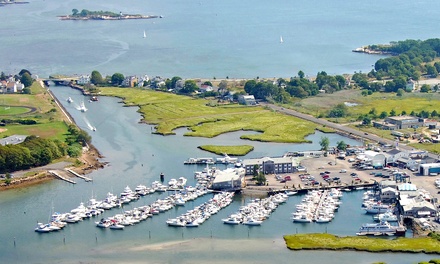 | Value | Discount | Savings |
| --- | --- | --- |
| $107 | 25% | $26.75 |
Share:
The Fine Print
Stay at Cape Ann's Marina Resort in Gloucester, MA, with Dates into May
---
Highlights
Hotel at a Glance: Cape Ann's Marina Resort

Fishing has been a way of life on Cape Ann for more than four centuries. The area's tuna boats are a familiar sight at Cape Ann's Marina Resort, which overlooks the spot where the Annisquam River flows into the Gloucester Harbor. Guests can launch their own Atlantic expeditions from the resort's boat slips, or simply enjoy waterfront views from their balconies.

Year-round oasis: The Aqua Room features a 6,000-square-foot atrium with a heated indoor pool and Jacuzzi featuring a full-service pool bar and TVs.
Fresh seafood like lobster rolls and clam chowder occupies the menu at Mile Marker One Restaurant & Bar, which overlooks the Annisquam River and marina docks.
In each room: free WiFi, along with a microwave and a mini fridge
Seafaring stars: Guests may spot boat crews from the National Geographic TV show Wicked Tuna.

Gloucester, Massachusetts: Lighthouses, Humpback Whales, and Artist Colonies

About 35 miles northeast of Boston, the fishing community of Gloucester is home to the country's oldest working seaport of Cape Ann. Here, you can visit the half dozen lighthouses that stand sentry over the Atlantic Ocean coastline, some of which date back to the 1780s. These lighthouses aren't just for show: some believe the Cape Ann Light Station on nearby Thacher Island saved the life of President Woodrow Wilson. On a particularly foggy evening in 1919, a passenger liner carrying President Wilson narrowly avoided a coastal collision after the lighthouse sounded its foghorn blare.

Gloucester was thrust into the national spotlight after Sebastian Junger authored The Perfect Storm, the true story of an epic nor'easter that hammered the fishing fleet and Cape Ann in 1991. The 2000 film starring George Clooney and Mark Wahlberg was shot on location in Gloucester's picturesque harbors.
The Company
Cape Ann's Marina Resort
75 Essex Avenue
Boston
website